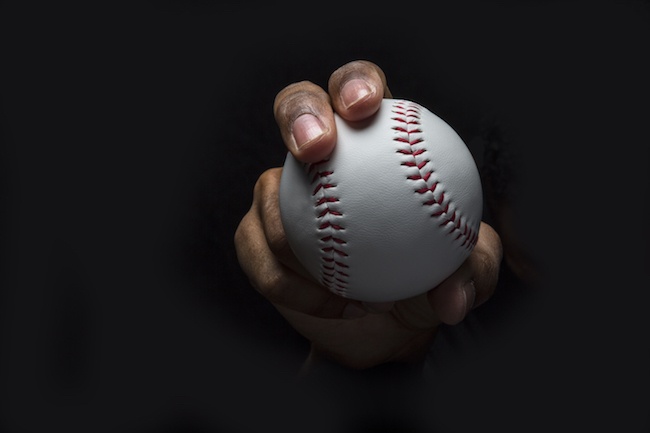 LivePlan was happy to attend Accountex 2017. The show's national sales manager, Patrice Hampson, really listened to us about what we hoped to get out of attending, which was to share and teach people about our scalable business process for Strategic Advising services, The LivePlan Method.
Although we are a software development company, we have a rich history of teaching. Our founder Tim Berry, who is the founder of the Lean Planning method, was a college professor. We have a commitment to sharing valuable information and resources about business planning and advisory services.
Indeed, many of our staff serve on regional and statewide boards, regularly write for national publications, and even teach business planning at the local community college. We are truly passionate about business planning! For all these reasons, we are always eager to share our knowledge at trade conferences. It also didn't hurt that the show was in Boston—and we love Boston! So off we flew, our CEO, COO, myself, and our kids.
We were concerned that the expo floor was pretty dead during the first morning, but the break out sessions Accountex had scheduled were really good, so we knew attendees were in those sessions, and we were relieved when folks started arriving after lunch. We spent a solid two days showing accountants how our LivePlan software and the LivePlan Method for Strategic Advising works as a platform for client advisory services.
The customers who came by our booth were smart. They were all interested in advisory services in one way or another, and they were also all unsure how to get their firm to scale with advisory. It's a big subject! The accountants we spoke with were excited about the idea of our LivePlan Method task list to manage the work and help them scale their advisory offering. They also liked the idea that the task list can easily be integrated with their workflow software, and helps frame pricing packages as well.
Our breakout session was on the morning of the last day. I was excited when I saw Accountex had set up a fairly large space right on the conference floor, but that it was also tucked in and protected from noise. It was a great setting to showcase our step-by-step method for advisory.
Our CEO Sabrina Parsons and I had to get right to it! We had only 50 minutes to cover what we would normally spend three hours covering. We talked about the highlights of The LivePlan Method for advisory:
the work is broken into phases and tasks
an advisor will spend more time during the first month kicking off the work and doing the Lean Planning, but that after the initial set up, the amount of work is reduced by ⅔, and that's where the real advisory happens
after the first month, the flat fee billing, subscription-type revenue model really kicks in and allows for growing profit over time
About halfway into our session, in sauntered the Red Sox mascot, Wally the Green Monster! Sabrina and I were right in the middle of a role playing exercise showing how an advisor would interact with their client in a Lean Planning session, and up the aisle he came!
He gave a few high fives, and then seated his not-petite frame in about the fourth row, right in my direct line of sight. It was both shocking and hilarious, and also disorienting. He spent about five minutes listening to our role play exercise, nodding away. Then, quick as a wink, he stood up, pushed his way back to the center aisle and sat down, right there in the aisle!
If you had asked me two months ago, "Do you want Wally the Monster showing up right during your precious 50-minute training session?" I might have had to give it some serious thought—surprises like this can be fun, but also distracting. But here he was, and we had to roll with it! So I walked over, gave him a big high-five and kept going! Wally was great.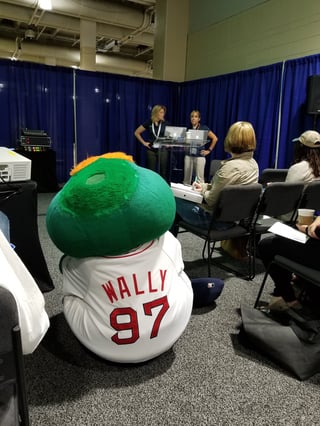 The experience with Wally is not unlike those you will experience in an advising relationship. Your clients will come in, push their way through your carefully planned meeting, and throw you curves by asking questions you weren't necessarily prepared for, or cannot answer in the moment. Advisory is about staying in the driver's seat even when your client throws you a curveball.
Be as prepared as you can on the points you want to cover. Keep the conversation focused and stay true to your scope by bringing curveball questions back around to the subject matter you are prepared to cover. It's OK to tell your clients that certain things fall outside the scope of your work, and it's also OK to tell them you will have to get back to them on some things. Your clients will appreciate the structure and it will build trust over time.
Thanks to Wally, and to Accountex, and to the city of Boston for giving us a lovely trip, allowing us to meet current and new clients, and reminding me that curveballs can be just the experience we all need to wake us up, keep us on our toes, and make us smile.
If you are interested in the LivePlan Method for advisory services, you can learn more at our website. We offer a downloadable business process checklist, and a 90-day free software trial. Training can be done through our online video, or we can offer a full, guided implementation program where we help you customize the LivePlan Method for your firm, train your entire staff, provide engagement scripting and other resources, and help you get up and running with 15 software licenses.