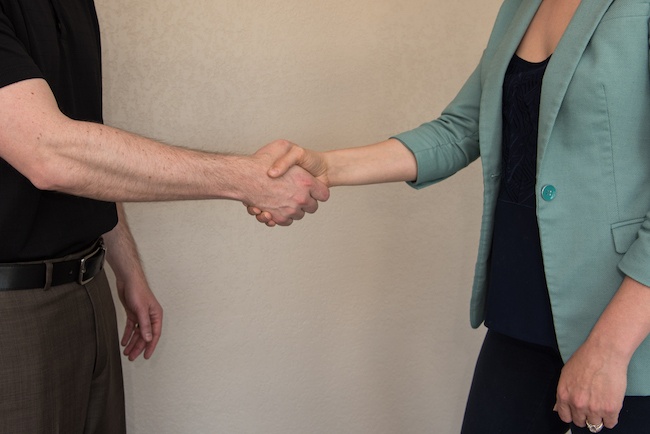 This is the last in a four-part series, covering a project with Luke Gheen of Gheen & Co. on implementation and specialized training of The LivePlan Method for Strategic Advising services. The project spanned about 20 hours during the winter of 2017. This final post covers the conclusion and next steps for Gheen and his team. Read part 1, part 2, and part 3 here.
Spring 2017
Big plans
It was now March, and 11 months from the time Luke Gheen and I originally talked about taking his firm to scale with Strategic Advising services. We were 90 days behind our original goal of a full implementation by the end of 2016, but oh, how much better the project had become!
Although the work occurred over the course of six months, the total project didn't take long, in terms of time commitment for Luke's firm. Between us, we spent about 30 hours on the following components:
six hours in conference calls between Luke and myself
about six hours of work we each did on our own to analyze and prepare business processes and set up LivePlan software
six hours of on-site training
four hours post training work
In early March, just after I returned from Gheen's on-site training, Luke sent me an email, thanking me for my trip and saying that he was considering hiring a business planner instead of a new CPA to fill his latest resource need. His business is still growing at a brisk pace, and he realized during our meetings that a dedicated employee focused on his clients' business planning needs might be a good way to round out his Strategic Advising services.
"After all," he said, "how could my CPAs be true advisors to their small business clients if they weren't doing upfront planning with them to understand their goals?" Indeed! So, I was looking forward to the phone call to hear how these plans had progressed.
I learned some important things on that phone call:
Luke was outsourcing his bookkeeping services. He realized that having accurate, month end, transactional data was key to his success, and so he decided to white label his bookkeeping services, which allowed him to offer it to all his clients.
He had finally finished his long-term project of turning over his tax-only clientele to another firm. It was a long process, but one that he was happy to have completed. He could now focus his attention on offering full service advisory to his remaining clients. He was in the throes of tax season at the time of our call, but because his CPAs check in regularly with their clients, tax season goes smoothly for Gheen & Co.
He did end up hiring a business planner—and in perfect Luke form, he did not go small. He hired a planner with a Ph.D. in organizational leadership; an experienced business planner with added expertise in leadership coaching. It is someone Luke had met through his business, in his typical way of paying attention, and aligning himself with the right resources.
Luke's new hire, who begins in the fall of 2017, will oversee all of his business planning and advisory services, and work in concert with the CPAs in the practice, picking up some of the work they do now, but don't really need to do. In turn, the CPAs will take on the added accounting work. Each will have a role in supporting their clients holistically.
This brings another dimension to Gheen & Co.'s offering, better in keeping with Luke's goal of full Strategic Advising services, while still supporting the growth of his business.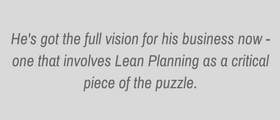 Luke had always been able to price advisory services well, and never had trouble with client interest; he just needed to get the right mix of staff to perform the work efficiently. This new change will allow that to happen. It's exciting news, and I can't wait to see how this plan will take shape.
The future
I'm not done with the Gheen & Co. project. We will work together again in the summer, when his new business planner starts full time. Luke will get to scale with advising services, and I'm happy to support him in his effort. I know he will succeed. He's got the full vision for his business now—one that involves Lean Planning as a critical piece of the puzzle, and a team of individuals who are putting an emphasis on the business process, all the while mindful of the margins on their various service offerings. For them, it's just a matter of putting the final pieces in place.
This story will be continued in the fall of 2017...