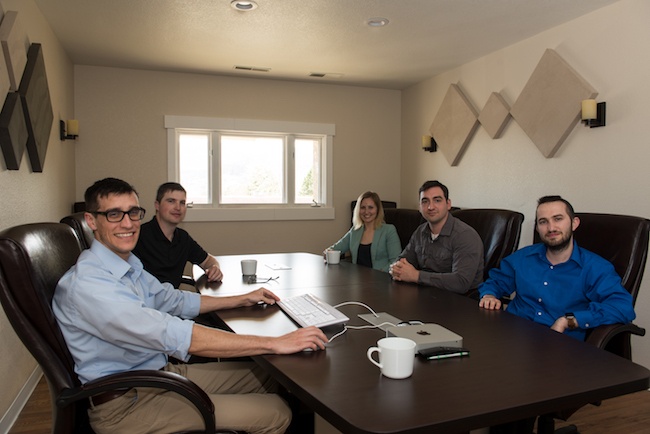 This is the third installment in the blog series about Gheen & Co. and LivePlan. Find the first two articles here and here. This installment covers the custom training I did with Luke's staff, as well as the process they went through as a group to make decisions about their advising services. Next week will be the fourth and final post in this series.
It snows in the winter
Colorado Springs, on Mountain Time, is one hour ahead of my Pacific Time brain—and I am not a morning person.
The day before my meeting with Luke and his team, I went to bed late after my flight to the Colorado Springs airport, and a long Facetime goodnight to my husband and daughter. On top of going to sleep late, I had planned to drive 30 minutes out and back to the only place I knew for a morning green smoothie. It was a lovely area and I was looking forward to seeing the hills of the Garden of the Gods park in the daytime, which was near my hotel and Luke's office.
So, imagine my surprise when, on my dash to the car that first morning, I encountered snow! Not just a dusting of snow, but enough snow that my car required scraping and thawing. Wasn't it sunny and warm just the day before?! I quickly learned that Colorado weather can be tricky!
Smoothie in hand, I arrived at the offices of Gheen & Co. with 30 seconds to spare. Due to Luke's levelheaded success, he was able to move into a building he now owns last fall. Much of that success had come from his focus on advisory services. What he saw from the start was that the clients who wanted the advising were also the clients who wanted a deeper relationship with their accountant—the type Luke wanted to bring. That type of relationship, because it is more than just compliance service, was worth more to those clients.
He was very proud in showing me around his new two-story office suite. He had just finished having the entire building renovated. He planned to rent out the downstairs spaces, while the upstairs offices house his firm. The spare office, where I would live for two days, had a remote controlled fireplace!
Training begins
We decided to spend two three-hour sessions with his entire staff, over two days. I was definitely worried about how I would keep these CPAs engaged for that many hours! Would they think all of this talk of business planning was too much, and that my presentation was a waste of time? What if I couldn't get them to laugh even once?!
My usual training is in two parts: 1.) The LivePlan Method for Strategic Advising, its purpose and outcomes, and 2.) How to use the LivePlan software for advising. For Luke's team, I decided to marry these two and go back and forth between the LivePlan Method and the software training. We would spend the first day on the phases of kick off, plan, and model, with a big focus on the purpose of upfront planning, and the second day on the phases of build and adjust, with a big focus on the client monthly meeting and how it looks and feels.
Meeting the staff
Luke's staff was warm and generous. They told me they each had a client load of about 60, and they talk to those clients on a very regular basis, many of them monthly. Remember, these CPAs were giving me six hours of undivided attention during the heart of tax season, with a full client load. Let that sink in. It was a testament to Luke's company and the great work they do that these folks felt they could meet their deadlines and still give me that much time.
We dove into the first day of training. I talked about kicking-off the advising relationship with clients and why it's important to set the advising tone early, showing your clients what to expect, telling them what you will expect of them, and hooking them on the simple and powerful key performance indicators in the LivePlan software.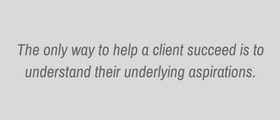 We then talked a lot about planning, and how important it is to understand the general business goals of your clients. Why did they go into business in the first place? What excites them about their business? What are their personal goals related to the business? The only way to help a client succeed is to understand their underlying aspirations.
This conversation is where the CPAs really perked up! This is the part that Luke saw his CPAs struggling with before. It's the thing they didn't want to do, that they were uncomfortable about, and that most didn't feel was necessary. It is the part Luke wanted to offer only for clients in a higher level price package. However, after this team-led conversation, the CPAs were all convinced that this upfront Lean Planning was not only helpful, but necessary in order to do real advising work. I was thrilled! My plan worked! Best of all, they were all in agreement.
Day two
We spent day two talking about the build phase of the LivePlan Method: how to set up a good working financial forecast, based on the sales goals of the client, with the financial knowledge of the advisor helping to layer in appropriate expense estimates. Then, we did a deep dive into the phase of adjusting, when staff meets monthly with their Strategic Advising clients. We talked about the look and tone of the monthly meetings—what to say, what to ask, and how true it is that in many instances, asking questions of clients is the best way to elicit useful information and is itself a type of feedback.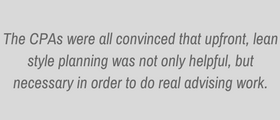 We also spent time talking through the feature sets of LivePlan that Luke's staff had trouble with: sections that were confusing, or parts that, if enhanced, they would use more. It was a good learning experience for me, and one our LivePlan team takes to heart. We want LivePlan to be a platform for comprehensive Strategic Advising, and anything that can help a Strategic Advisor meet that need is important to us.
Going home
I spent a solid two hours in the spare office with the fireplace before I said my goodbyes. The warmth of the fire against a backdrop of snow as far as I could see through the office's huge windows was very relaxing. I came back to Eugene with a renewed sense of purpose in this experiment of helping accounting clients go full scale with the LivePlan Method for Strategic Advising. Luke and I agreed to do a series of final meetings to talk about his plans for going to scale with client advisory services, now that his staff was in agreement on the LivePlan Method.
One thing was clear to him after the training sessions: he would need to go back to the beginning just a bit. He would have to incorporate Lean Planning as a fundamental piece of the service. He knew he would revisit the method steps and work that part in, and we agreed to catch up in March.
Read the final installment next week to learn what decisions Luke made for his business, and where he is now.