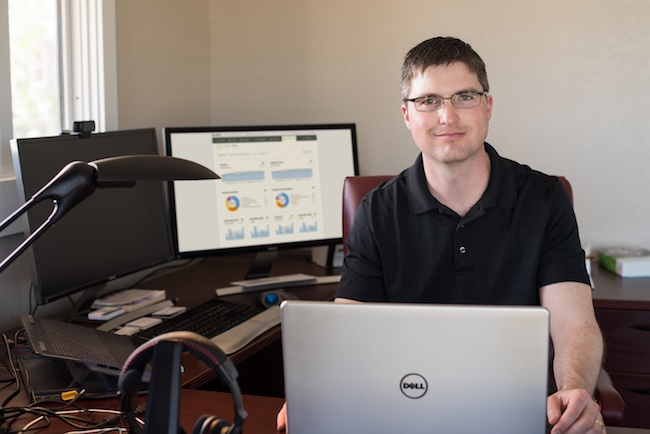 This is Part 2 of a 4-part weekly story of how LivePlan and Gheen & Co. worked together to develop a Strategic Advising business process for Gheen & Co. CPAs. See Part 1 of the series here.
Fall 2016
The project begins
It was now September of 2016—about three months after I met Luke in person at Scaling New Heights. Gheen and Co. was moving to a bigger space—one that he would own!
I was on conference overload. IPBC Ignite was in Canada, and QB Connect in San Jose only a few weeks later. It was exciting for our team, but tiring—and the project with Luke was looming. We had both agreed to a year-end deadline, which meant only three months to get all the work done that we had planned, and Luke and I were both busier than ever!
I knew that this project would set the stage for future collaborations with accounting firms that wanted to systematize their Strategic Advising offerings, so I was mindful about success—it felt like the stakes were high. In addition, because we were thousands of miles apart, I hoped we would be able to work together remotely, by conference call and document sharing. My first major concern was how many conference calls we would need. It turned out, not very many!
First project call
In our first conference call, I showed Luke the business process I put together for LivePlan Strategic Advising, called The LivePlan Method.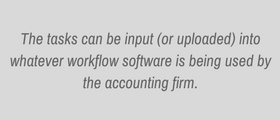 It is essentially a labor bill of materials—or more simply put, a recipe of tasks, which allows the advisor to define tasks and time limits, and set costs and sell prices against those tasks. The finished product becomes a natural training manual, because it is task-based, but is also a way to determine how much the work costs internally, and suggests a baseline sell price centered around desired gross margin. Just as important, the tasks can be input (or uploaded) into whatever workflow software is being used by the accounting firm.
Here is the LivePlan Method by phase: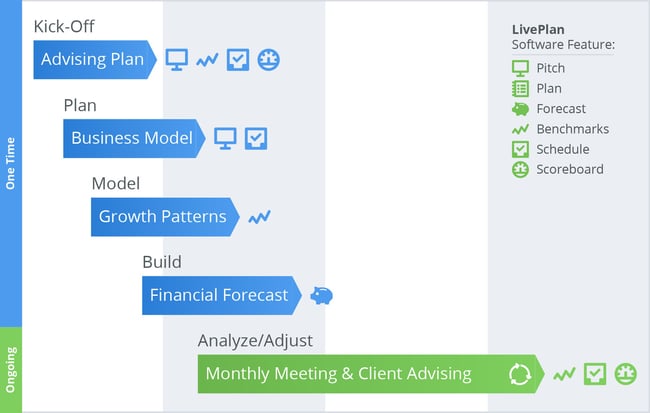 My first question to Luke: "What is your gross margin on your existing, various service offerings to clients?" "Wow, I don't know," was his answer, so we began from there.
We discussed the labor bill of materials, the purpose of each phase of the work, what each task meant, and how all of it related to the LivePlan software. I explained that the first four phases are done only once, for client set up, during the first month. The ongoing repetitive work of step five ("Adjust") is where the profit is made on the fixed price fee.
I then set Luke off on a project to modify this method (all of the work tasks) for his business—to play with the time allotments, cost rates, and gross margins by phase to come up with a version that would fit his business. He was into it!
Winter 2017
Fits and starts
Christmas happened, and then the New Year, and as most projects do during the holidays, this one stalled into the second week of January. I was worried because we had not met our original goal, but also very glad about how the work was going. Working with Luke was mindful and efficient!
He understood that our true goal was to devise a business process that was scalable, which meant it would be understood by all his staff, make their work easier, and stay in place as his business grew or shifted depending on his needs.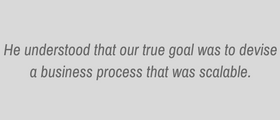 In our second meeting, just as he said he would, Luke presented a version of the labor bill of materials for Strategic Advising for his own business. He had color coded the rows to denote tasks that he was keeping, versus those he didn't feel were necessary. He had input rates for each of the work types, and arrived at a baseline sell price based on hopeful gross margins. He was not only excited about this way of analyzing work for Strategic Advising, but now that he saw what his margins would be on advising—and that there would be a way to control for those margins—he was eager to do the same for his other service offerings.
We had a discussion about his chosen tasks, and I expressed concern about some things he took out that I felt were necessary. Namely, the idea of spending a dedicated amount of strategic planning time upfront, with each client, no matter their level of service. Luke offers three fixed price level packages, something he learned from Mark Wickersham. He knows his clients like being able to pick from a range of services.
Luke wanted to have the planning talk only if the client was in his second level tier, due to the understandable worry about his internal costs. He wanted to try to upsell the client for additional services during the course of the relationship. My worry was that the client would never see the value of the planning unless it was introduced right from the outset. I worried that the advisor would never be able to successfully migrate their small business clients to a full service Strategic Advising package without understanding the needs of those clients and their businesses better, through the planning steps of the LivePlan Method.
Luke was convinced his modest plan was necessary, and I was equally convinced that I was right! In addition to his concerns about costs, his CPAs were uncomfortable having business planning discussions with clients. They were unsure how to engage, and what the discourse would be. I offered on the spot to travel to Colorado Springs and spend a couple days helping his CPAs with this engagement. I would also do LivePlan training around his custom method and tasks. I knew that once I was there, I could convince Luke and his team that upfront planning would make all the difference—it would not only be helpful, but necessary! I would head there in early February, just three weeks later.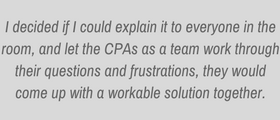 In the meantime, I spent some time developing a custom slide deck for training Luke's team. I used his version of the LivePlan Method (and therefore his chosen tasks), but I went ahead and included the items on upfront planning.
I decided if I could explain it to everyone in the room, and let the CPAs as a team work through their questions and frustrations, they would come up with a workable solution together. I was pretty sure that whatever team of folks Luke Gheen had hired, they would be affable and eager. I was right.
Tune in next week for Part 3, where I travel to Colorado Springs to meet Luke's amazing team.