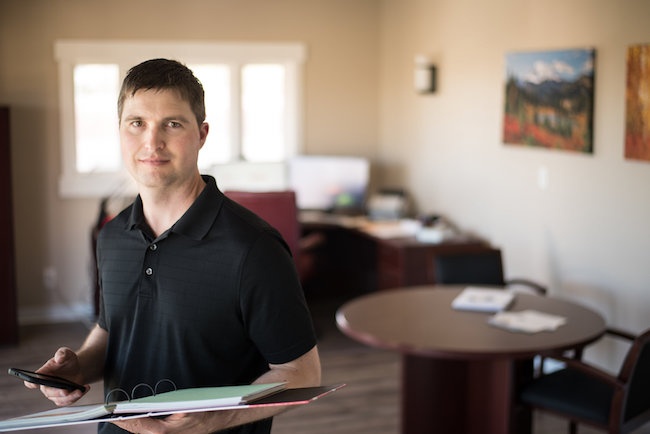 Luke Gheen is the owner and CEO of the CPA firm Gheen & Co. in Colorado Springs, CO. He has built his firm from the ground up, over the last seven years, by listening to peers, forming strategic partnerships, and always with very careful planning and an eye to the future. I worked with Gheen during the winter of 2016/17 on a custom implementation of the LivePlan Method for Strategic Advising. This series of four blog posts tells that story.
This summer, LivePlan is excited to begin offering similar projects to any firm interested in adding Strategic Advising as a standard, monthly service offering.
Gheen & Company and LivePlan
Winter 2016
First days
I first heard the name Luke Gheen on my second day of work at Palo Alto Software on the LivePlan team. "You need to meet Luke," Sabrina, our CEO, said to me in our first weekly check-in. I was hired in January of 2016 to help Palo Alto Software bring the LivePlan Method to accounting firms as a platform for them to offer client advisory services, at scale. LivePlan had recognized the need in the accounting industry for a broader solution to a Strategic Advising need. My background is in business development, including financial forecasting, and business process design.
Luke, it turned out, discovered LivePlan at Scaling New Heights, in San Antonio in 2014. He had attended the conference looking for innovative ways to streamline his practice and offer better solutions to clients. He was struck by Sabrina's talk about the importance of a living business plan, so he paid a visit to the LivePlan booth. But I wouldn't learn any of that until I got to know him myself.
Spring 2016
A conference call
In March, I called Luke, hoping to find out more about this trail blazing CPA—who was adding LivePlan clients regularly, clearly growing his client base, but still not at scale with LivePlan as a standard service offering. I suspected that firms had an issue with the integration of their software solutions across their business, and in marrying those software solutions to their business processes. I thought it was likely a problem of organization, and then of efficiency in doing the work. I knew if there was a CPA client within LivePlan who could answer my questions about this, it would be Luke.
We spent about 45 minutes getting to know one another. He was a truly nice guy. I learned about the tremendous customer growth his business had experienced over the last 18 months, and also his struggles at going to scale with the idea of Strategic Advising. He was able to introduce clients on a onesie-twosie basis, but not as a full solution set in his practice.
His problems were very much as I suspected. He had great software, and smart CPAs who knew how to do the standard work that CPA firms do. And he had maximized on that as much as possible, using video for monthly check-ins and doing much of his work with with clients remotely.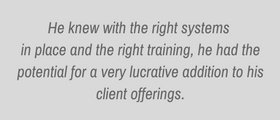 But he didn't have business processes for Strategic Advising, and his CPAs were not trained in this art. It wasn't a natural thing for them. But he knew with the right systems in place and the right training, he had the potential for a very lucrative addition to his client offerings. His customers wanted it, and so did he. It was my goal to get him there.
By May, the LivePlan team was in full planning mode for Scaling New Heights 2016, where Luke and I could meet in person and talk about how I could help him and how we could work together to implement a Strategic Advising service offering in his practice.
Summer 2016
Fire dancers, and who is Poseidon?
Scaling New Heights 2016 was in the Bahamas, and it was big; I had decided to bring along my family. Our entire management team did the same. We were a group of adults, overrun by children at the world's largest water park! And oh, by the way, there was work to do.
The conference center was a half mile (literally) from our rooms, through a labyrinth of hotel passageways: restaurants, lobby, an aquarium, shops, the casino, and more shops. I logged an average of 16,000 steps per day! Besides the sheer vastness of the conference grounds, the opening ceremony started with a stage of fire dancers, and the daily main stage event included a shout by the entire crowd for "Poseidon to sink this ship!" I was new to the accounting industry, and this was big!
While the kids were having fun in the sun, I was conferencing "underground" on a dimly lit trade show floor. Luke and I had decided to meet at "lunch," which meant we would grab food and sit at a table near our booth. The plan was that he would find me. I wasn't hard to find; I was at my station, wearing a LivePlan shirt!
Meeting Luke
Luke came walking up to our booth, super casual, as if he were coming for information. He stuck out his hand and calmly said, "I'm Luke." I'm not sure what I expected, but I have to admit, I was surprised when I saw him. When you think about the person who is growing their CPA business by 30 percent year-over-year, hiring three new CPAs in the last 12 months (and needing a fourth because of demand), and doing all of this with a very healthy flat-rate to his clients, you might think superhero costume, but Luke was totally and completely, 100 percent normal. He was humble, relaxed, and also ready to eat!
We grabbed food and a table and started talking. He told me he studied finance in college and graduated with an MBA. He was very interested in growing and running businesses. He got his CPA almost as an aside—something he knew would be helpful down the road.
After spending time as an analyst and then controller, his CPA practice started humbly—just him and one client: a former co-worker. During the last year he had found a marketing service for accountants and CPAs called Build Your Firm, and after attending one of their seminars, decided to entrust all his lead generation to them, and to take their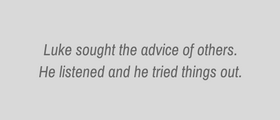 advice on many business decisions that would have positive effects on client adoption.
As he talked, a theme emerged: Luke sought the advice of others. He listened and he tried things out. If the advice was strong enough, and if he trusted the person giving it, he would try to implement the advice. And usually it would work out. As he told me himself, he had made a career on implementing good advice!
The problem and the plan
Luke's accounting firm was struggling to develop a more systematic and profitable approach to offering his small business clients the Strategic Advising he knew they wanted, and that he knew he could provide.
At that time, he had three CPAs and about 130 clients and was using LivePlan with about 40 of them. Most of his CPAs were using LivePlan for business plan writing, but that only happened every so often, and only when clients asked. He needed a process to deliver
Strategic Advising that would make sense to his CPAs, that would also be scalable.
Advising services are tricky, because you want to offer a personalized service, but you still have to be mindful of workflow efficiency. In addition, since Luke was on a fixed monthly price with his clients, he knew he had to be careful about scope. Adding any additional work that wasn't included in his fixed fee would eat away his margin. Even though these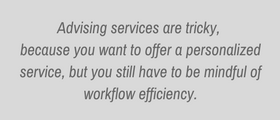 problems seemed hard to overcome, Luke knew that the need to provide advising services to his small business clients was too great to ignore.
We talked about business, and our mutual careers. We talked about common interests, showed pictures of kids and spouses, and then we talked about Strategic Advising. We went over what it is, what it means, how it can help small business clients succeed, and how Luke's business could make money doing it!
In 45 minutes of talking, we came away with a plan to work together on a custom implementation of a business process with LivePlan—one that would be modeled just for him, and take him to scale, with every client benefitting from his firm's Strategic Advising. It would be a method that would fit into his current business processes, and one that would make sense to his staff of CPAs. It would involve working together quite a bit over the coming months; some conference calls, some individual work, and even a trip to Colorado Springs for me, to visit his staff and do some training, but we both thought it would be worth it. We committed to the project, and to what would quickly become a very eager deadline!
Tune in next week for Part 2, where we begin work on the project!