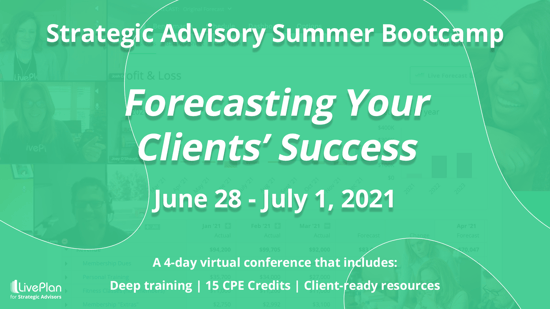 The Strategic Advisory Summer Bootcamp, a 4-day virtual event will take place June 28th-July 1st. Space is limited, so register now to claim your spot!
FOR IMMEDIATE RELEASE - April 30, 2021
LivePlan for Strategic Advisors, a product developed by Palo Alto Software, is offering 60 tickets to their third annual LivePlan Strategic Advisory Bootcamp on June 28th-July 1st, 2021. This 4-day, virtual event will be hosted on Hopin, an innovative platform that brings the in-person experience of conferences to life, online.

Bootcamp 2021 will highlight the LivePlan Method for Strategic Advising as a tool to continuously manage an evolving industry, and how to market, sell, and deliver this vital client advisory service, with ever-evolving client needs. This approach raises the bar on advisory services, making them scalable, and letting you be the partner your clients need to help them make confident decisions.

With the bootcamp theme of "Forecasting Your Clients' Success," this event will also give accountants and advisors the opportunity to master LivePlan's newest feature, LiveForecast. Attendees will learn how to build and manage financial forecasts to help their clients gain insights and manage their businesses with confidence.

LiveForecast is a "game-changing" tool for accountants and advisors, enabling them to keep forecasts up to date, see fresh running balances and be able to spend their valuable time with clients talking about what-if scenarios based on their future cash and profitability.

Alongside a dedicated rollout of this new feature, attendees will receive a total of 15 CPE credits through engaging sessions led by the management team from LivePlan, and industry experts; Mark Wickersham, Enae Jackson-Atkins, and Brooksher Banks. Attendees will also have the opportunity to learn how to become LivePlan Certified Advisors and be taught advanced best practices from our partner apps: Karbon, Practice Ignition, Aero Workflow, Effective Pricing, and Gusto.

CPE credits will be offered across multiple fields of study including; Management Services, Management and Organization, Communications and Marketing, Computer Software and Applications, Finance Technical, and Personal Development.

A limited attendance of 60 seats creates an environment where deep training and purposeful peer connections have room to develop with an emphasis on small-group collaborative training, a trademark of LivePlan learning.
About Palo Alto Software and LivePlan for Strategic Advisors
Palo Alto Software, Inc. develops and publishes tools, products, and content to help small and midsize businesses pitch, plan, manage, and grow their ventures. Founded in 1988 by business planning expert Tim Berry, PAS has been the market leader in its category for over 15 years and has served well over 2 million entrepreneurs. Currently led by Sabrina Parsons, who has been the company's CEO since 2007, initiated the development of the company's flagship product, LivePlan. A SaaS (software as a service) solution for efficient, profitable, and scalable business planning and financial management. For accountants, it provides a step-by-step process to transform their practice into a full strategic advising service. For more information, please visit www.liveplan.com/strategic-advisors and www.paloalto.com

Jonathan Michael
Jonathan is the Senior Channel Marketing Manager for Palo Alto Software.