Right now, practices everywhere are trying to adapt to a drastically different work landscape that often changes from day-to-day. Your team is working remotely. Your tax season has been extended. Your clients are dealing with disaster relief efforts and trying to stay above water.
On top of that, you're also dealing with a new "normal" for work and home life. Taking care of pets throughout the day, making sure your kids are getting their schoolwork done, remembering self-care...it's all blended into blocks of time that have blurrier lines and never enough coffee. Scheduling our time in terms of days, weeks, and months has—out of necessity—switched to a simpler perspective: yesterday, today, and tomorrow.
A saving grace through all of this is that people are finding creative ways to connect with each other and overcome obstacles together. Technology that wasn't available even 10 years ago has allowed us to adapt to these challenges and rise to the occasion. Your team has many more ways to communicate with your clients, and each other, than ever before.
Why email communication is more important than ever
At the same time, email is a method of communication that has been around for decades and is even more popular now. Compared to live chats and phone calls, email allows you to prioritize your client work around what's most important, not who's demanding your immediate attention.
You've probably seen your inboxes fill up much faster than usual, especially if your practice manages shared email addresses for client work, or generic addresses like services@ or info@ for inquiries. Clients and prospects have a ton of questions and need your expert guidance during this time. To take great care of them, you want to reply to them as quickly as possible with clear, professional responses that provide value.
To make sure your team has the bandwidth for managing more email, without taking away from billable work you want to complete, your team's email process needs to be efficient and productive.
That's why we put together these 6 tips to help your team learn methods and harness tools to collaborate efficiently, reply quickly, and take better care of your clients with shared email.
1. Increase transparency and collaboration with a shared inbox tool
Using a shared inbox tool will allow your remote team to work on email together without needing to forward, CC, or BCC email threads. Forwarding messages around, or emailing about emails is cumbersome and slow. Instead, a tool like Outpost lets you add internal comments to any email, assign other team members to look at them, suggest wording for replies, and share templated responses for frequently asked questions.
Here's just one example of how some accounting firms do this in Outpost. Each person manages their own personal mailbox, and the whole team shares mailboxes for each client: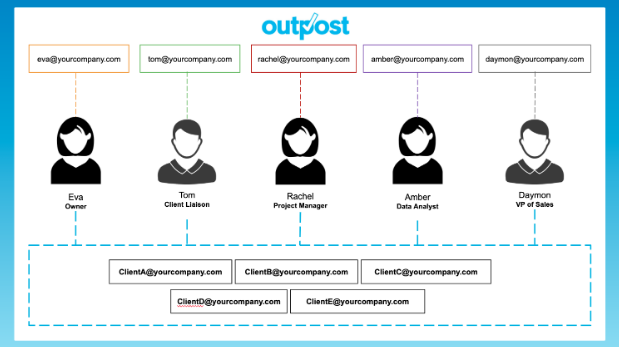 Others choose to push all client email into one mailbox like info@ or support@, but the result in Outpost is the same: your team gets to log into one central location to see everything together.
2. Establish an efficient team process for managing email
To make fast responses a reality in your shared mailbox, your team will need a clearly defined process. Expecting one person to keep an eye on everything won't work during a time like this, especially if they go on vacation or need to take a sick day.
Your process doesn't have to be complex, but here are a few ways you can manage your shared mailbox as a team:
Designate someone in a "triage" role who will be responsible for reviewing new messages in the morning and delegating responsibilities to other team members. Consider rotating this role each week, and be sure to designate someone as "backup" to fill in when needed.
Set a requirement for the rest of the team to check the shared mailbox once or twice a day, depending on email volume, to make sure everyone's staying on top of messages that are waiting for a reply.
Agree on one place where your team will discuss email responses, and stay consistent so you can cut down on FWDs and CCs. For some, you might choose to use an instant messaging platform like Slack. With a tool like Outpost, you can leave notes for each other right within your inbox.
3. Organize your inbox
Organizing and cleaning things up in your shared mailbox might sound like something you don't have time for, but it will streamline your team and increase their productivity. Start with a time limit of one-hour to whip your inbox into shape, and go from there.
Here are some easy wins you can use to get organized quickly:
Unsubscribe from unimportant newsletters
Set up rules to auto-archive notification emails that don't require a response
Create labels or tags to make it easy to filter and find important messages
Once you organize your inbox, it'll be easier to keep it that way. You'll be happy you did, and your increasingly productive team will be too.
4. Delegate, delegate, delegate
In a shared mailbox, you need to understand who's doing what. In traditional email accounts like Gmail or Outlook, there's no way to see who's responding to an email, which can lead to team members replying to the same client email twice, or emails sitting unanswered. Forwarding or CCing emails to each other clutters up everyone's inboxes and can slow you down.
You should delegate tasks so that your team has a better idea of who's responsible for each message. You can do this with a task manager, over chat in Slack, or by using a shared email tool that's actually built for team collaboration. Whichever method you choose, it's important that you take the time to communicate as a team and understand who's doing what.
5. Set a goal for your email response time
How fast should your team try to respond to emails? Roughly half of your clients expect to hear back within 24 hours, but if you'd like to satisfy the majority of your audience, aim for one hour or less. That might be a tough goal for your practice at first, but try setting an easier goal to start, like 8-12 hours, and then start tracking your team's performance. You'll start to get the hang of it, and can gradually aim for faster and faster response times.
6. Save answers to common questions
You've probably noticed that your practice is getting a lot of the same types of questions (e.g. "Are you still operating?" "Can you help me understand my cash flow right now?"). If that's the case, then save everyone a lot of time by writing clear answers to those FAQs once and saving them in a shared location, like a Google Doc, where your team can copy and paste email responses. If you're using a shared inbox solution like Outpost, response templates can be saved and loaded right from your inbox with just a couple of clicks.
Don't forget: this is a strange time for everyone
Not everyone puts their best foot forward during a crisis, and emotions can play a bigger role in how people communicate with each other. You can be a voice of calm for your clients during uncertain times. Consider these four suggestions when writing email responses:
Despite the physical barrier, you can put your humanity front and center in your email communication. By doing so, you'll help strengthen relationships with your clients and help make a difference during a crisis. In the end, you'll be recognized as trustworthy and caring long after the crisis ends, and you'll be able to have a greater impact on the success of your clients.
If you'd like to start using Outpost to manage your team's shared email, you can start a free trial today, or schedule a custom tour with one of our email experts.

Jonathan Michael
Jonathan is the Engagement Marketing Manager for Palo Alto Software, and has spent the last 9 years developing and implementing digital marketing strategies. During that time, he has learned that empathy and authenticity are strengths by which companies can effectively engage with individuals at every point throughout the customer journey.